Today 29th of Sep 2022
Unstable: South-westerly currents will bring humid air towards the Alps.
The weather
On Thursday many clouds, in the afternoon and evening rain showers. Maximum temperatures between 11° and 17°.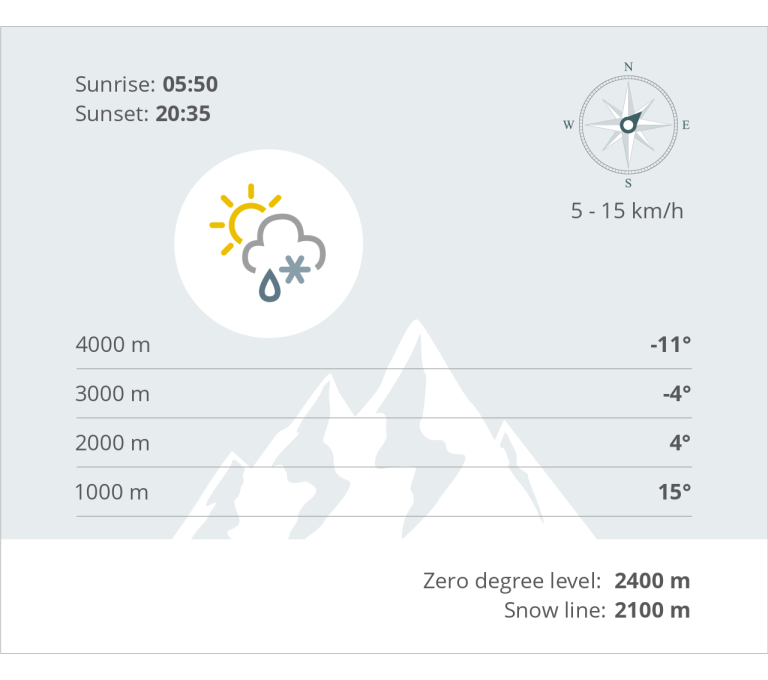 Mountain weather
Clouds will limit the visibility with some showers especially in the afternoon. Snow line around 2000 m.
The next days
Changeable: On Friday still unsettled conditions, only some sunny spells and rain showers. Partly sunny weather on Saturday in the southern parts of the region with low clouds in the morning. On Sunday quite sunny weather, during the day more clouds in the North. Sunny weather on Monday.

friday
30
Dull, slightly rain
max: 18°
min: 5°

saturday
01
Very cloudy
max: 20°
min: 5°
sunday
02
Cloudy
max: 22°
min: 4°

monday
03
Partly cloudy
max: 24°
min: 2°